Are you a process Plant or Manufacturing Factory with Semi /Full Automation ?
Do you use multiple PLCs / HMIs/ SCADA in your plant ?
Are you remotely located and need Programming and Trouble shooting support ?
Frustrated with delayed response from support services ?
Looking for immediate support ?
If yes, we have the Solution for you now.
Yes, we offer Remote PLC/SCADA Trouble shooting support services from our office for various PLCs/SCADA/HMI across the globe.

Advantages of Remote Trouble Shooting Support !
Immediate Instant support !
Faster response time and uptime!
Less Downtime on unscheduled breaks !
Up & Maximise Productivity !
After the initial set up cost, pay only for the Engineer's Expertise time on Hourly basis.
Avoid the tension of awaiting the visit of the service engineers.
Avoid paying for the service engineer's travel, stay, food, Local Conveyance, Pickups.
What we offer !
We offer a secure Encrypted VPN Network Solution using Industry standard routers from Tosibox/ eWON.
We will be able to access the PLC /SCADA/ HMI remotely connecting over highly secure , encrypted VPN Connections and establish point to point two way communication.
Once this is established , we will be able to talk to your PLC /SCADA from remote and proceed with the backup and trouble shooting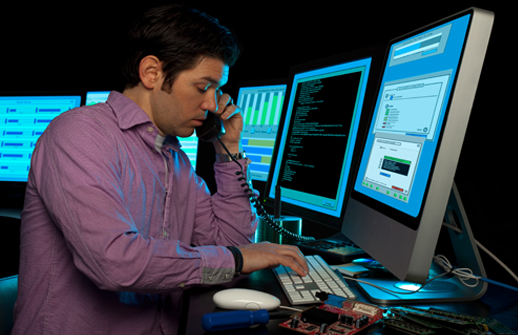 How it works ?
We shall offer you a Secure VPN Router from Industy standard TOSIBOX /EWON @ your place and do the initial setup.
The router shall be connected to a high speed internet connection at your place over a LAN/WAN Connection.
We can establish a secure VPN Connection and access the PLC, download the backup, reprogram or trouble shoot or make necessary changes as per customer requirement and remotely commission the PLC.
Whenever you require the support, all you need to is just call us and inform us 1
It is sufficient that you give us access to the PLC only when you need the support and rest of the time unplug the connection to the router and keep.
We shall handle multiple PLCs but with one router but trouble shooting cannot be concurrent and it will be one PLC /SCADA only at a time.

Initial Setup Services !

We shall initially visit your site and assess the connectivity possibilities and decide on the no of Routers you will need if more than one PLC is to be supported .Alternatively the same can be remotely advised.

In general, we can even connect multiple PLCs to a single router. However, the service support can only be one to one and not concurrently.